The Bailiff of Brunnegg: A Swiss Legend
by
Ted Tschopp
---
Posted in 2023 Comments
Webmentions Catagories: 📜 Folklore https://tedt.org/2023/11/19/The-Bailiff-of-Brunnegg.html
---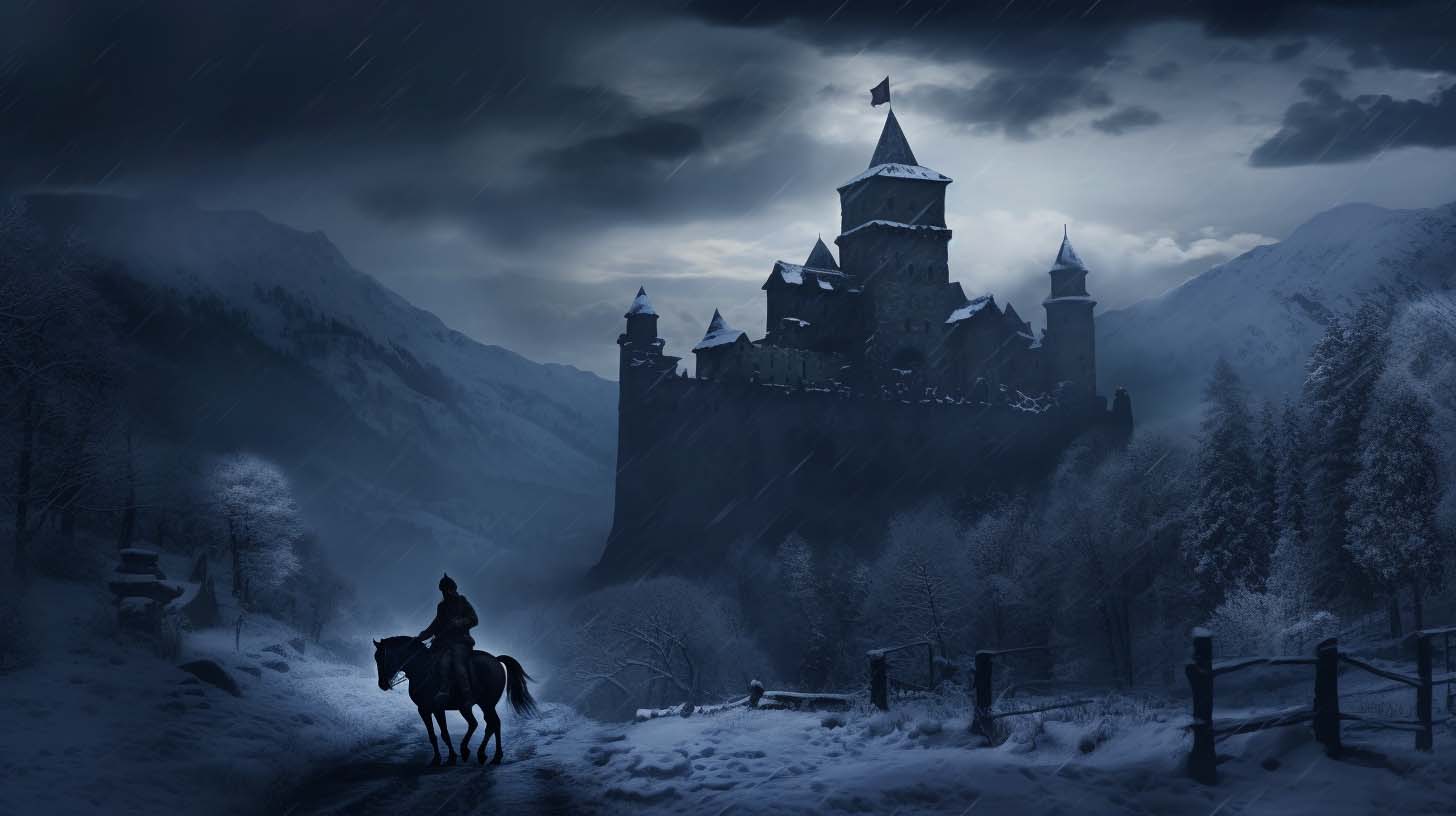 ---
The Haunting Tale of the Bailiff's Hunt
by Ernst L. Rochholz

Aarau, 1856

Page 187
---
The Bailiff of Brunnegg

When a change in weather is due and especially as the holy season approaches, people at the foot of Brunnegg1 hear a persistent tumult above at the castle. It is said that the bailiff2 rides out on his steed (a black horse) for a hunt. He once did this in the harshest winter with his pack of dogs3 and a retinue of attendants. Their feet froze in the cold, and then the bailiff found a poor woodcutter, killed him, and warmed his freezing feet in the opened belly of the corpse. From that moment on, a terrible snowstorm broke out, sweeping and burying them all together; none returned to the castle. The spot where the poor peasant died is still known; the hunting rider gallops up to there, and there his huntsman's cry of "Hop-Hop!" falls silent.

Well-read people call him Gessler4 and believe he is the same man who forced Tell to shoot at his own child.
---
As noted by: T. Tschopp

General Information

Title: The Bailiff of Brunnegg
Author: Ernst L. Rochholz
Source: Swiss Legends from Aargau, Volume 1, published in 1856
Location: Brunnegg, Aargau, Switzerland

Plot Points

Setting: Takes place at Brunnegg Castle, with an emphasis on harsh winter conditions.
Main Character: The bailiff of Brunnegg, depicted as a cruel and ghostly figure.
Incident: The bailiff kills a poor woodcutter to warm his feet in the man's belly during a hunting expedition.
Supernatural Elements: A terrible snowstorm ensues, believed to have buried the bailiff and his entourage.
End Scene: The legend concludes with the ghostly bailiff's hunting cries falling silent at the spot where the woodcutter died.

Beliefs about the Event

The story is considered a legend, blending historical characters with folklore and supernatural elements.
The bailiff is sometimes identified with Gessler, a figure from the William Tell saga, indicating a possible overlap of legends or a common theme of tyrannical rulers in Swiss folklore.

Cultural Context

Historical Backdrop: Reflects the medieval period in Switzerland, highlighting the conflicts and dynamics between local populations and ruling nobility (like the Habsburgs).
Themes: Explores themes of cruelty, justice, and supernatural retribution.
Cultural Significance: Represents a narrative of resistance against tyranny, a common theme in Swiss folklore, which contributes to Switzerland's national identity and history.
Representation in Art and Literature: The story is part of Swiss cultural heritage, often depicted in literature and art, reflecting the broader theme of struggle for autonomy and freedom in Swiss history.
---
---